Ready Mixed Concrete
What is Ready Mixed Concrete?
As the name indicates, Ready Mixed Concrete (RMC) is the concrete which is delivered in the ready-to-use manner. RMC is defined by the American Concrete Institute's Committee 116R-90 as: "Concrete that is manufactured for delivery to a purchaser in a plastic and unhardened state".
The Indian Standard Specification IS 4926:2003 defines RMC as:"Concrete mixed in a stationary mixer in a central batching and mixing plant or in a truck-mixer and supplied in fresh condition to the purchaser either at the site or into the purchaser's vehicles".
In India, concrete has traditionally been produced on site with the primitive equipments and use of large labour force. Ready mixed concrete is an advanced technology, involving a high degree of mechanization and automation. A typical RMC plant consists of silos and bins for the storage of cement and aggregates respectively, weigh batchers for proportioning different ingredients of concrete, high efficiency mixer for thorough mixing of ingredients, and a computerized system controlling the entire production process. The quality of the resulting concrete is much superior to site-mixed concrete.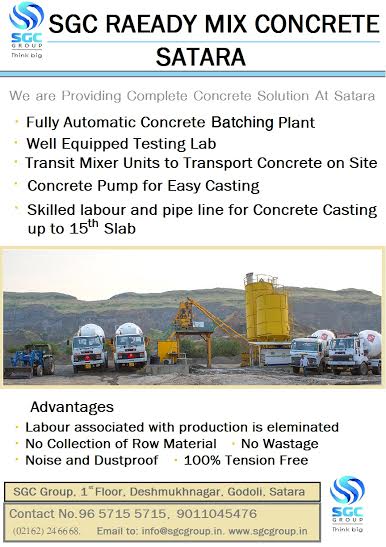 Site Mixed Versus Ready Mixed Concrete
Technologically speaking, ready mixed concrete is certainly an advancement over the age-old site mixed concrete. The benefits of RMC in terms of quality, speed, life-cycle cost and environmental friendliness are overwhelmingly superior to those of site mixed concrete. Following brief comparison illustrates this vividly:
Quality of concrete : RMC-India uses sophisticated plant and equipment, which enables it to produce quality concrete. The Company exercises strict control on the quality of all ingredients through rigorous testing, applies stringent controls on process parameters, meticulously monitors key properties of concrete in the fresh and hardened state and applies the well known Cusum technique to quickly detect any changes in the properties of concrete. All these efforts result in providing uniform and assured quality of concrete to customers. In contrast, in a typical site-mixed concrete there is poor control on the quality of input materials, batching of ingredients and mixing of concrete, thus the resultant quality of concrete is poor, non-uniform and inconsistent.
Speed of construction : Mechanized operations at RMC-India's plants ensure that construction activities are speeded up. While the production output from a typical site-mixed concrete operation using 8/12 mixer is around 4-5 m3/hour, the output form a 60-m3/hour RMC plant is around 45 m3/hour. Thus there is nearly 10-fold increase in the output from RMC plant, which translates into direct savings to the customer!
Elimination of material procurement requirements and storage hassles : With the use of RMC, customers are not required to procure and store cement, aggregates, sand, water and admixtures at site. This not only drastically reduces the space requirements at construction sites but also minimizes efforts on the part of customers to procure different materials, ensure their proper storage and check their quality parameters from time to time.
Saving in labour requirement : Site-mixed concrete is an labour-intensive operation and managing lage labour force is a big hassle for the customer. With the use of RMC the labour requirements are minimized considerably, thus benefiting customers. Further, as RMC-India looks after the entire QA & QC needs, the customer's manpower requirement for QA & QC operations is minimized. This is a saving for the customers.
Reduction in wastage : In site-mixed concrete job, wastage occurs in handling of all materials, including cement. The latter is generally of the order of about 2-3 kg per 50 kg bag of cement. All such wastages are considerably minimized at RMC facility.
Improved life cycle cost : Increased speed of construction coupled with reduction in labour cost and wastage results in considerable savings to customers. Further, the improved quality of concrete translates into enhanced long-term durability of concrete, thus minimizing the maintenance and repair costs. Overall, when one considers the life cycle costs, the use of RMC become cost-effective in the long run. The benefits directly accrue to the customers.
RMC is eco-friendly : All plants of RMC-India pass the pollution control norms and are duly certified by the state pollution control authorities. As mentioned earlier, wastages are reduced drastically with the use of RMC. Further, RMC-India optimizes the mix proportions using the maximum possible potential from each material ingredient. All these improve the environmental performance of concrete produced by the Company. Finally, with the approval of customers/consultants, RMC-India uses a variety of supplementary cementitious materials like fly ash, blast-furnace slag, silica fume, etc. in concrete, thus conserving cement and helping in reduction in emissions of green house gases like CO2. Thus, concrete produced by RMC-India can certainly be considered to be eco-friendly.
Overall, the use of RMC is beneficial to users from all angles: better quality, higher speed, better durability, savings in labour, reduction in wastages, reduction in life cycle cost, etc.
Active RMC Plants
Loyalty Card
Loyalty Card will help you in getting SGC services at discounted rates
We believe in strong and long lasting business relationships and thus awarding our loyal customers with discounted offers.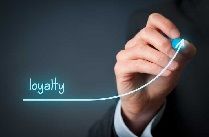 Customer Care